FROM WINE USING REVERSE OSMOSIS
WINEMAKING CHALLENGE:

TOO MUCH ALCOHOL
If alcohol content of your wine is higher than you intended, you should remove enough alcohol to restore balance. Wines with too much alcohol create the following challenges:
My alcohol came in above 16.00%

The alcohol content in this second lot of bulk wine is higher than what we stated on the label

Wine that expresses itself as alcoholic may be difficult to sell at full value.
If your alcohol is 16.01%, then you will pay $0.50 per case in extra tax.
If your ABV differs from that stated on the label, you can have a thorny compliance issue to resolve.
WINESECRETS CAN GUIDE YOU THROUGH THIS PROBLEM.

Start with Winesecrets' Test Track.  You can trial samples at varying alcohol levels to find the wine's best alcohol concentration.
After tasting your Test Track results, use Winesecrets' Reverse Osmosis (RO) for targeted alcohol reduction.  How does it work?
Water and ethanol are separated from the rest of the wine (permeate).
Alcohol is separated from permeate by column distillation facility or by membrane distillation at your winery (with DSP).
Permeate less ethanol removed is returned to the wine.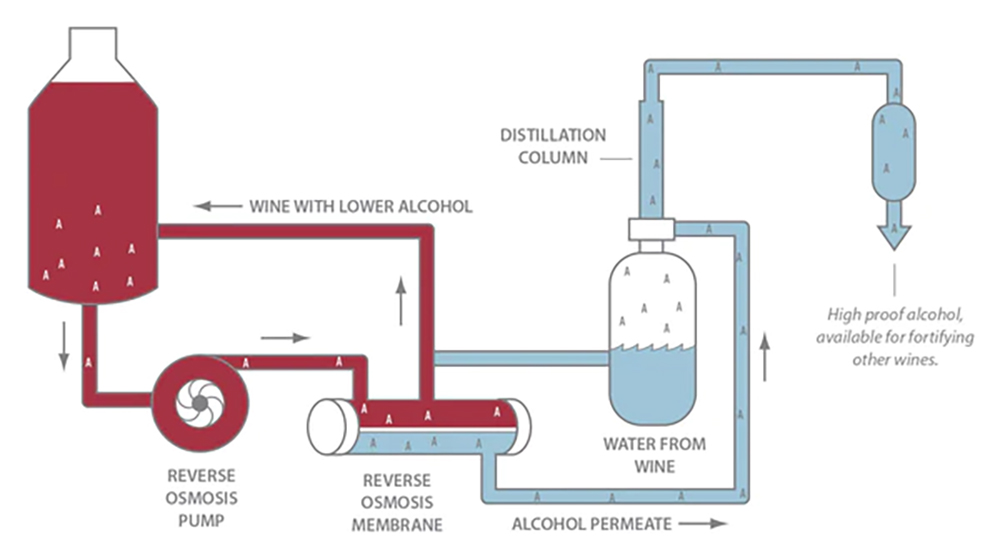 Your wine with the alcohol corrected will be:
Balanced: flavor, aroma and alcohol concentration are in harmony.
Under the federal limit for high tax class, saving you thousands of dollars.
Within federal tolerance for wine label veracity.
Winesecrets has been performing alcohol removal operations for over 15 years.  Your benefits of choosing to work with us include:
Wine Integrity: Winesecrets' RO systems use RO membranes with a rating of 100 molecular weight cut-off, (100 MWC). Water and alcohol are distilled, keeping all other wine components secured behind a protective membrane.
Non-Destructive Processing: Competing technologies distill wine through a kind of turbine, subjecting the wine's important sensory elements the heat and turbulence of mechanical distillation.
Best Efficiency: Winesecrets' distillation step conserves wine volume, protecting you from the volume loss experienced by users of other systems. More wine comes back to you.
Estate Service: Don't want to ship your wine until it is safely in the bottle? No problem. Winesecrets mobile system combines RO with membrane distillation.  This advanced technology is easily portable, allowing us to come to you.
Winesecrets has conducted alcohol removal on over 5,000,000 gallons of wine throughout North America. Our highly trained, professional staff will conduct your wine to its intended alcohol concentration.
Wine Alcohol Removal by Reverse Osmosis
Watch this short video to learn more
CONTACT US TO FIX YOUR ALCOHOL REMOVAL PROBLEM
Ready to take the first step? By filling in the request below, we will begin the process of preparing a customized solution to your winemaking challenge. Our team of professionals is ready to share decades of wine production knowledge with you. We love a challenge! And will do our best to ensure you are realizing superior results.