WINEMAKING CHALLENGE:

TANGENTIAL FLOW SYSTEMS IN NEED OF REPAIR OR MAINTENANCE:
High end tangential flow systems are less common than many winemaking systems. Maintenance and repair knowledge is often not readily available leading to the following issues:
The filter is down again

We bought this from France. Who here speaks French?

We don't have the knowledge in house to fix this
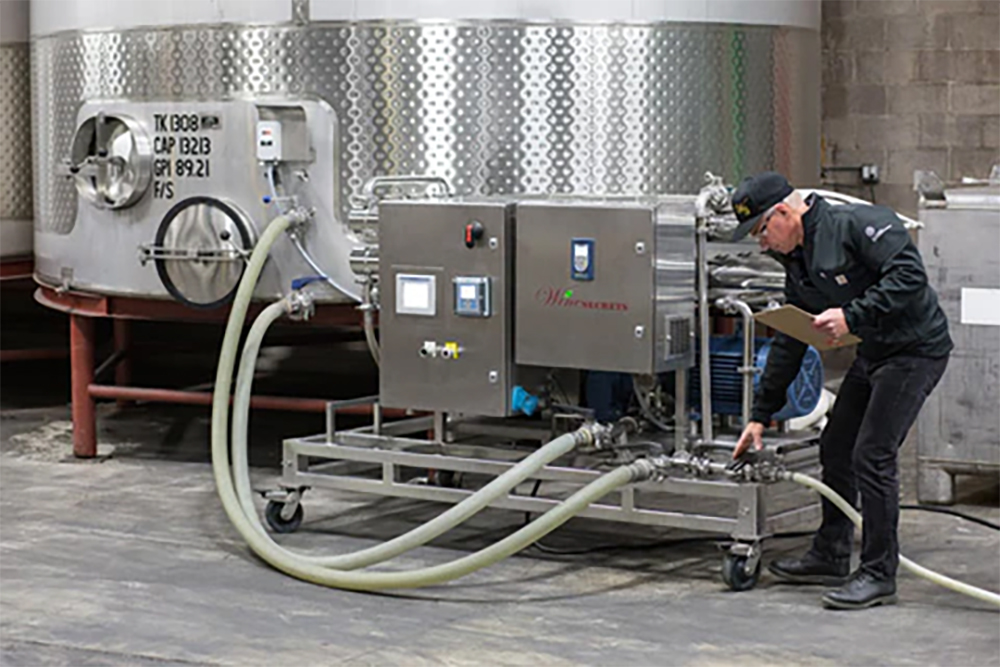 If your system is inoperable, you can miss critical bottling schedules.
The equipment came from overseas, but the maintenance personnel did not.
Winery maintenance staff has no experience with ROs, Ultrafilters and Crossflow filters.
WINESECRETS CAN GUIDE YOU THROUGH THESE PROBLEMS.
Winesecrets has over 20 years experience building and repairing tangential flow systems. From the machine built to gain the original patent in 2006, Winesecrets staff has worked on many of the ROs and other similar systems throughout the west coast.
Winesecrets built many of the systems in service at wineries today.
As a VEOLIA Channel Partner, Winesecrets staff is certified to repair VEOLIA systems.
Have seen, operated and repaired systems from other providers including Vaslin Bucher and Della Toffola
Your machine, regardless of manufacturer, is running again:
Ready for bottling on schedule.
A planned maintenance schedule in place to assure future operability.
Worry free repair.
Winesecrets has been building and repairing ROs, Molecular ROs, Ultrafilters and crossflow filters for over 20 years. Your benefits of choosing to work with us include:
Experience: We've seen it before.
Professional: Uniformed personnel with proper tools and supplies will arrive at a scheduled time.
Inventory: Winesecrets has the membranes and spare parts you need to repair or maintain your high end filtration device.
Winesecrets has conducted tangential flow filtration on millions of gallons of wine throughout North America with functional, well maintained equipment. Let us be your go-to providers for repairs and preventive maintenance.
Looking at Filtration Systems Care outside of the wine industry? Visit Engineered Filtration Solutions website today.
CONTACT US FOR FILTRATION SYSTEMS CARE
Ready to take the first step? By filling in the request below, we will begin the process of preparing a customized solution to your winemaking challenge. Our team of professionals is ready to share decades of wine production knowledge with you. We love a challenge! And will do our best to ensure you are realizing superior results.