BENCH TRIALS FOR CROSS-FLOW TECHNOLOGIES IN WINE INDUSTRY
WINEMAKING CHALLENGE:

WINE UPGRADING REQUIRES TRIALS BEFORE LARGE SCALE TREATMENT
You suspect that this year's product is not consistent with your winery's style. If you think that treatment with a Winesecrets technology would add value to your wine, then you should send a small lot to Winesecrets' Test Track to find out.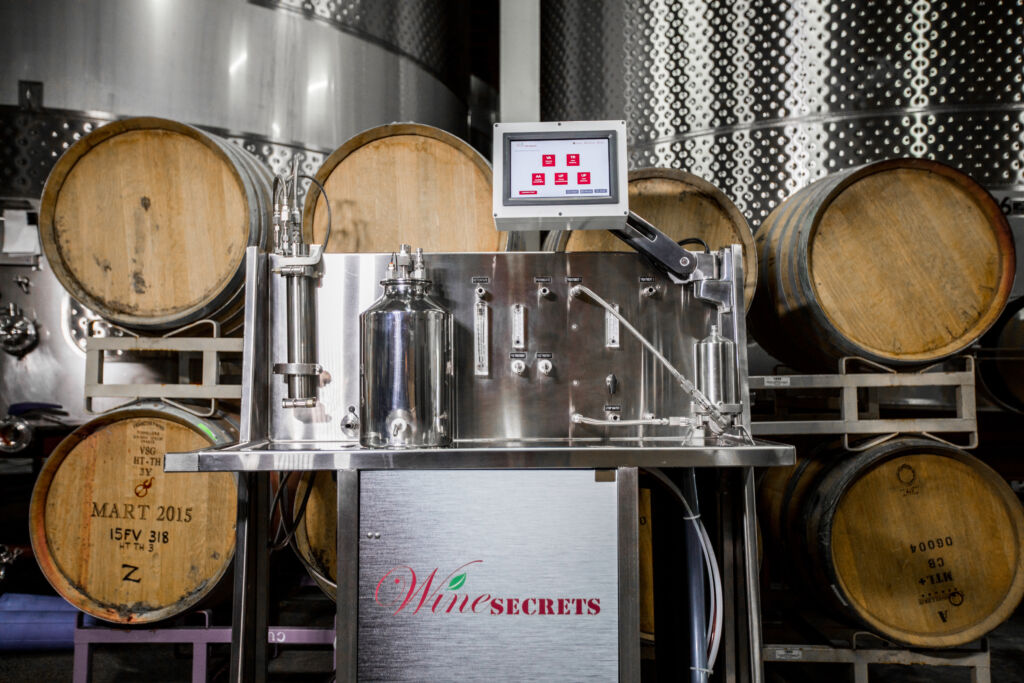 Our last vintage had better color

The wine is hot and out of balance

Trial Ultrafiltration to see the impact on color intensity.
Experience your wine at its most balanced with alcohol "sweetspotting".
Understand the impact of taint removal and develop a plan for treatment.
Ultrafilter wine to understand the benefits of intensifying color or flavor.
Conduct alcohol removal and alcohol addition trials to find the perfect concentration for your wine's structure.
Understand the impact of taint removal including Brettanomyces, smoke taint, volatile acidity, geranium taint, sulfur-like odors (SLO) and pyrazine from under-ripe fruit, Asian lady beetles and stink bugs.
Use Test Track bench trials and Winesecrets' 15 years of experience to mitigate off-aromas and unidentifiable characteristics in a wine.
Conduct Test Track bench trials on multiple parameters.
Process development trial in a manageable scale.
YOU CAN FIND THE BEST PATH FORWARD FOR EACH WINE WITH WINESECRETS' TEST TRACK.
It is important to understand the impact of various treatments on a small scale before processing large volumes in the winery.
Test Track allows you to conduct bench trials on all available Winesecrets process options, to include:
Alcohol Adjustment
Sweet Spot
UF/Concentration
Smoke Taint Removal
Once Winesecrets receives your wine samples, your wines are trialed and tasting samples returned for your evaluation, many times within one business day.
Test Track Trials Allow you to:
Examine your wine's innate character instead of altering it by blending.
Fine-tune your wine's flavor expression.
Develop comfort with the benefits of advanced filtration techniques.
Develop a budget for production-scale operations.
The Test Track is a unique bench scale trial system to determine the impact of several treatments on a wine. Your benefits for choosing to work with us include:
Decision Control: With Test Track results, you decide the optimal taint mitigation to bring out the desired characters of your wine.
Minimal Intervention: Bench trials allow you to determine just the right treatment volume to improve a wine lot. Treat no more than is necessary.
Experience: Winesecrets combines this cutting-edge technology with its 15 years of experience, improving wines to bring you the best possible outcomes for your wine.
Winesecrets has conducted Test Track trials on hundreds of individual wines with over 50% leading to full service treatment. Our highly trained, professional staff provides you with wine trial samples. Once you decide on the best course of action, large scale treatment will be scheduled at your winery or at our central location in Sebastopol, CA.
Watch this short video to learn more
SEE WHAT TEST TRACK CAN DO FOR YOU
Ready to take the first step? By filling in the request below, we will begin the process of preparing a customized solution to your winemaking challenge. Our team of professionals is ready to share decades of wine production knowledge with you. We love a challenge! And will do our best to ensure you are realizing superior results.